Geeky Art Nerd (Goldsworthy, Holt, and Smithson Inspired Project)
I am currently taking a sculpture-based class (Form and Space), and our first project comes with a presentation. We have been encouraged to do this is in a few different ways, and I know my professor would love to hear any feedback from the blogging world. So leave a comment with a critique, a question, or a just a general tidbit of information and enjoy while I get a bit artsy.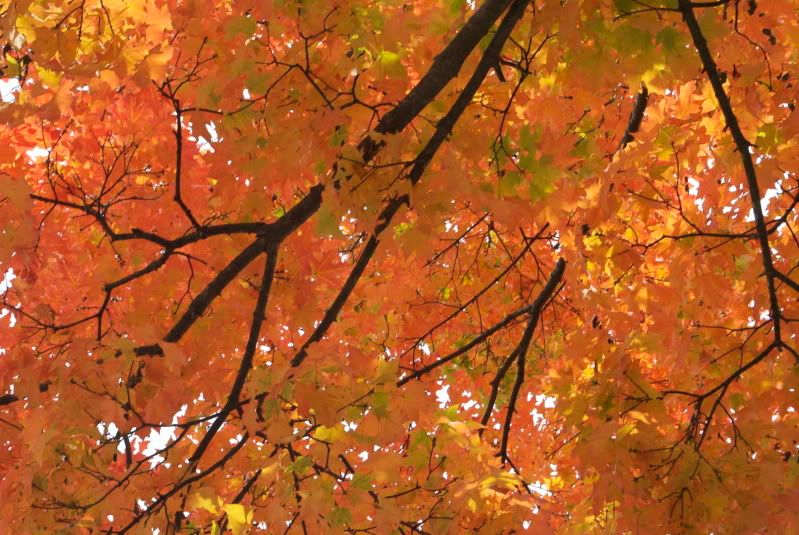 My piece hopes to bridge the gap between naturally existing organic forms and artfully chosen patterns with wood and rock. I am familiar with the work of Andy Goldsworthy, and other such earth-based artists, such as Nancy Holt and Robert Smithson. I have been drawn to their work for several reasons. Each artist creates work that directly involves the environment it is based in, and the work can only exist in that space. Holt and Smithson both work on large-scale permanent pieces, whereas Goldworthy creates pieces that may only last a moment or two. All three of these artists, who use materials, environment, and documentation very differently, have a similar approach to medium. Goldsworthy's "Woven Bamboo", Holt's "Sun Tunnels," and Smithson's "Spiral Jetty" use medium as a tool to provide a different perspective on the surrounding environment. They create pieces that use medium as a tool to create a new environment, based in the surrounding landscape.
Goldsworthy
Holt
Smithson
I wanted to create a work that mimicked this use of material and environment, although decided to create a portable piece rather than one that was directly attached to its place of origin.

I knew from my original sketch, that creating a frame fixed with branches and rocks, may be a difficult task. I was able to make a wooden frame with hammer and nails, but my handiwork was not perfectly executed.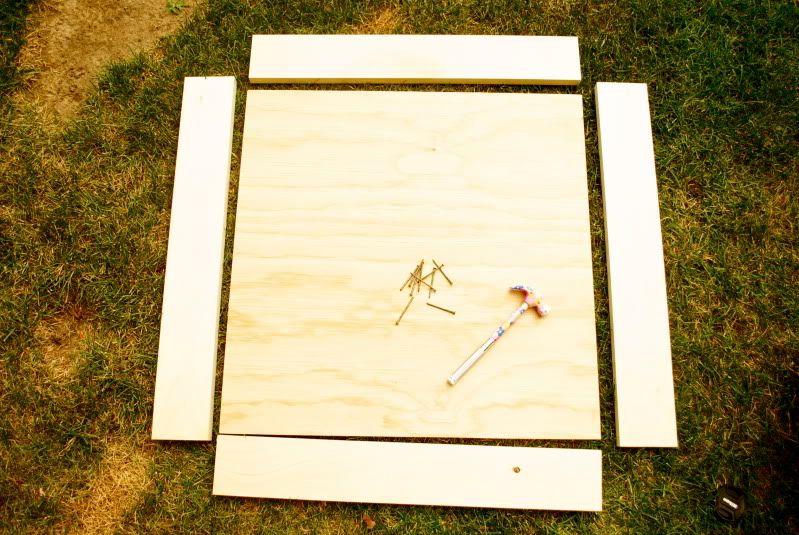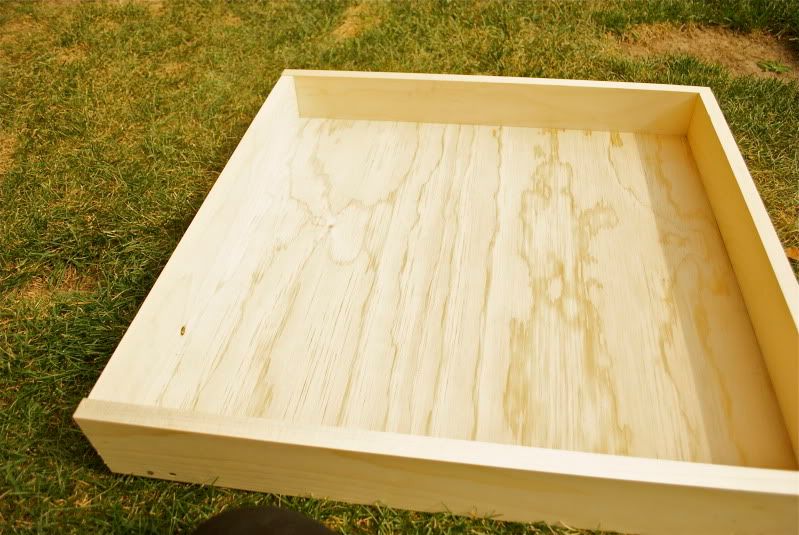 But I figured it out!
The structure holds together, and the imperfections are covered by the rocks and branches. Once I found branches that were the right size for my frame, I set about preparing for the task at hand. I stripped the branches of bark where I felt it was too lose, and measured the branches to fit inside of the frame and cut them with a handsaw. A little Elmer's Glue, and a few failures later, I had successfully attached the branches.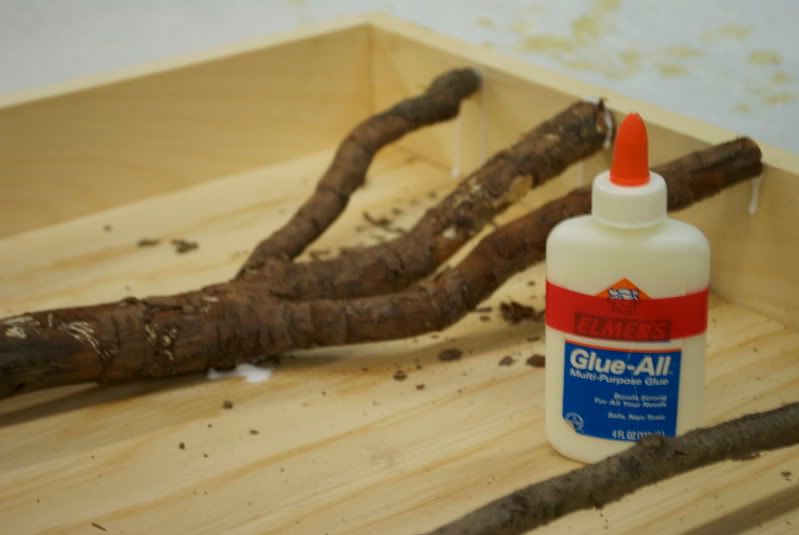 I painted on a dark stain over both the frame and branches to create a unity between these three different types of wood.
I had the most trouble when it came time to attach the rocks to the wood. Glue, from a Glue Gun, worked surprisingly well, but I did have some trouble finding the largest size of glue stick. If I used a small Glue Gun, the glue that was liquified would not be enough to fasten a rock to the wood. Once I had acquired the right size glue stick with Glue Gun, the marrying of rock and wood was simple.
(p.s. Make sure you pay your rent this month. I always have to walk around with it written on my hand or I'll forget.)
As I was binding the two materials together, I tried to create subtle variations on color shifts between the rocks. I must have collected several different types of stones, and the result was awkward compositionally if I placed a white stone next to a brown one. The organization of color was used for ascetic purposes, and hopes to create movement from one side of the frame to the other.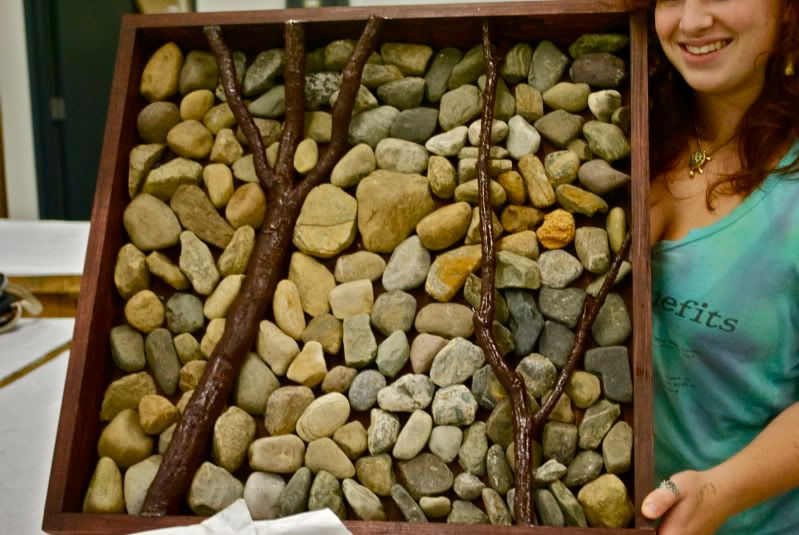 My piece aims to translate naturally existing forms into a concrete representation of an environment. It can be hung in a home or placed into a garden, either way the medium should dictate its surroundings.
Any suggestions for where I should hang it up?